Early Art Deco
Fine and very rare cube shaped Emile Galle Cameo vase in reds over orange internally polished to reveal stylised flowers c1920, signed c 5 inches tall, Price £1,980
Internally polished
Cute small Emile Galle Cameo purple and blue over yellow vase c1900 signed c 3 inches tall, internally polished to reveal wild flowers in blue Price £1,350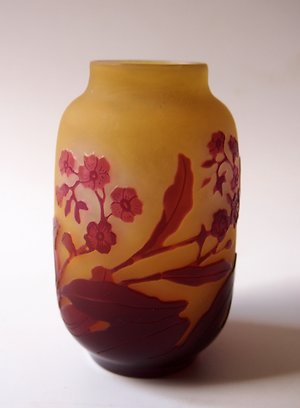 Internally polished
Classic Emile Galle Cameo red over yellow vase c1900 signed c 4 inches tall, internally polished to reveal wild flowers in pink Price £1,350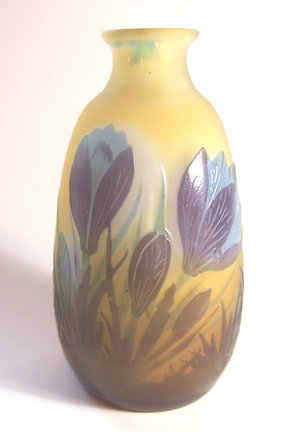 Crocus
Wonderful Emile Galle Cameo purple and blue over yellow vase c1900 signed c 5 inches tall, internally polished to reveal the crocus flowers as blue view Price £2,400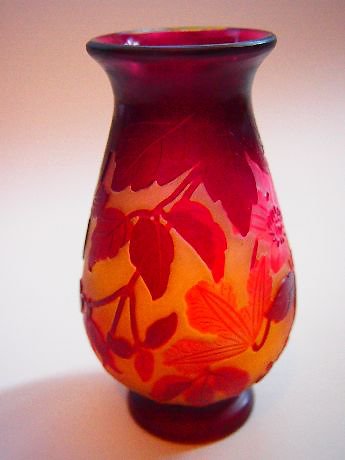 Clematis
Fine Emile Galle cameo vase, c6 inches tall, decorated with clematis, in yellow, purple pink and red -internally polished. Signed c1900. Price £2,400.
Purple Pink
Classic Emile Galle cameo vase purple on clear with pink 'blush' c 4 inches high, signed c1900. Price £665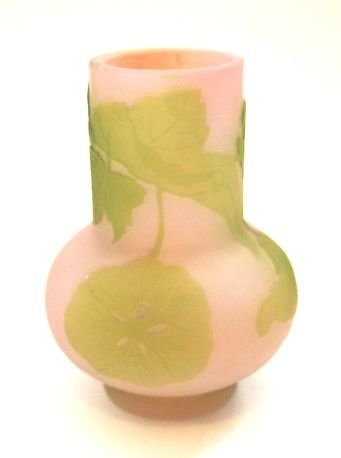 Nasturtiums
Classic Emile Galle Cameo Small sized vase (c 4 inches tall) depicting nasturtiums , in green on pink, produced c1900, signed in cameo, price £665.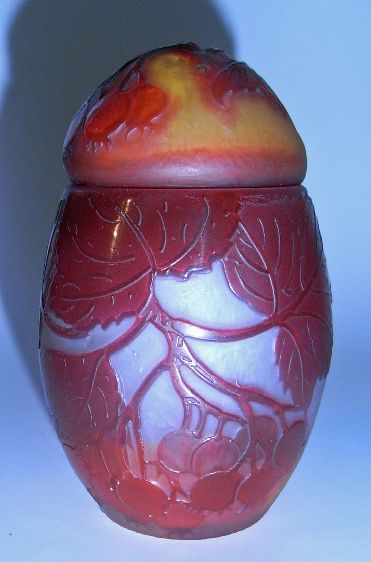 Easter Egg
Rare small Emile Galle cameo 'Easter egg' box and cover in reds, clear and orange, depicting branches with rose hips c1900 (4 1/2 inches tall with lid), signed, price £1,350.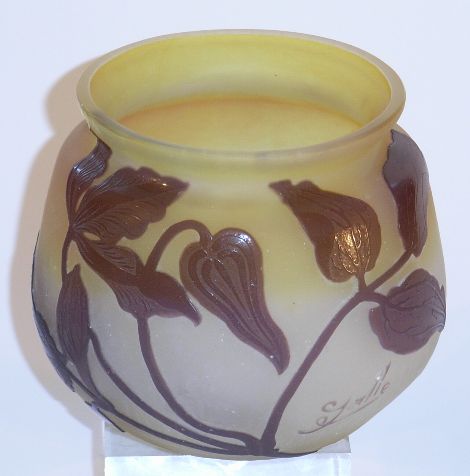 Clematis
Stunning Emile Galle Cameo medium sized vase decorated with Clematis in purple on clear and yellow (4.5 inches tall by nearly 5 inches across), produced c1900, signed in cameo, price £1,100.